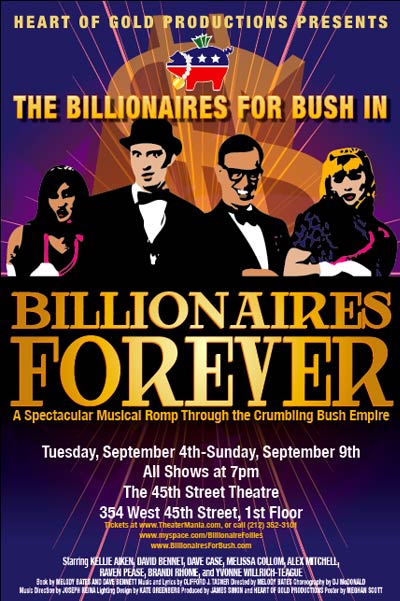 From the
Billionaires for Bush website
:
BILLIONAIRES PRIVATIZE BROADWAY
August 22, 2007 --
BILLIONAIRES FOREVER is a spectacular musical romp through the crumbling Bush empire.
* Curious about what will happen to the Billionaires when Bush is out of office?
* Want to know why Rove is really resigning?
* Do we want government of, by, and for the corporations?
* Are we willing to trample roughshod on democracy to get there?
"This show will answer all your questions," explains Billionaire Follies Artistic Director Ivy League-Legacy. "Are we in it for the long haul? You bet your golden parachute we are."
* New Show, BILLIONAIRES FOREVER, runs September 4-9th at the 45th Street Theatre
* "At last" raves Rupert Murdoch, "a reason to go to the theatre!"